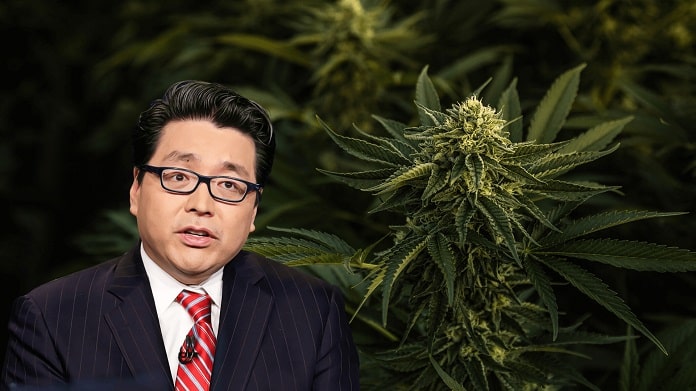 The fixation followed by the fall in the share prices of marijuana stocks reminds Thomas Lee, the Research Head, and Managing Partner at Fundstrat Global Advisors, of the dotcom and Bitcoin bubble that took place in the early 2000s and 2018. Lee's opinions were brought forward in a CNBC report dated December 23, 2019.
According to the reports, the accomplished Wall Street strategist feels that the performance of the cannabis industry is equivalent to the peak of the dotcom bubble and Bitcoin madness "at the turn of the century."
However, Lee didn't clearly spell out that the marijuana industry was close to experiencing a burst in the bubble, as per the reports. He only opined that the sector reminded him of several initial internet business models that, according to him, were nothing but "profitless prosperity."
The reports also noted him acknowledging the increase in demand, though he said until one could properly capture the value, it would be difficult to create something which results in sustainable returns as well as equity.
It is vital to note that the share prices of the biggest marijuana firms had soared last year but are facing sharp fall down in the current year. For instance, Canopy Growth, which is the biggest firm publicly trading cannabis in the world, is down about 26% in 2019, dropping around 64% from its all-time peak. Similar is the case for Aurora Cannabis and Tilray, which witnessed a fall of close to 60% and over 75%, respectively, in 2019.
There are other factors as well that are causing struggles for the cannabis industry, such as uncertainties around the regulations in the US or slow retail store rollouts in Canada. However, with marijuana derivatives like beverages and edibles, the sector feels there would be increased excitement and sales.
For those new to the crypto world, cryptocurrencies, such as Bitcoin, had created a similar scenario back in 2017. In fact, Bitcoin had become a big phenomenon and reached a high of over $20000 from $3600 in December 2017. In the following year, the crypto experienced a plunge, closing at about $4000.